Details

Last Updated: Tuesday, 19 June 2018 14:35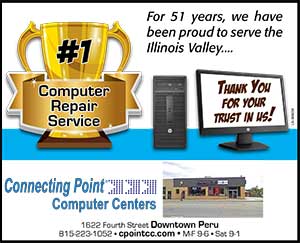 Since 1966 Connecting Point Computer Centers has been a successful computer sales and computer service oriented business, maintaining the motto....
"We Provide Solutions"
Our company is dedicated to providing our customers with total computer solutions for business, industry, and individuals. Our company philosophy has always been to help our customers solve their problems and to provide them with service before and after every sale. Customer satisfaction has always been the guiding force of our company since it was founded.
Connecting Point Computer Center began with modern computer services in 1966. In 1980 my father Ron and his partner Steve Brust started our micro computer business which was expanded and moved to our 12,000 sqft facility in downtown Peru. Our customer's satisfaction has always been and continues to be the primary focus of our company. Our store name has changed over the years but our motto hasn't "We Provide Solutions"! We remain committed to our valued customers, dedicated employees, our vendors and our community.
Jeff Borelli, President
Contact us today at 815-223-1052 to help you
solve your difficult business and technical needs.
North Central Illinois Solutions Provider
Default
Title
Date
Random